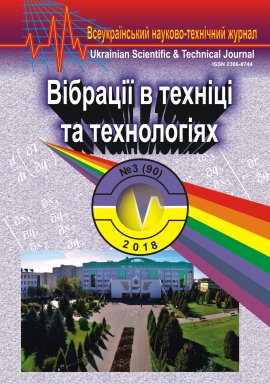 Issue №: 3(90)
Published: 2018.09.26
DOI: XXXXX.XXXXXXXX
Description:
The journal deals with the problems of vibration technologies and machines, mathematical methods of vibration process studies, information on design and technological development, presents teaching and methodological aspects of teaching in the Higher School of Applied Sciences, where vibration machines and technologies are studied.
THE USE OF MAGNETORHEOLOGICAL FLUID IN THE ENDOPROSTHESIS DAMPER FOR VIBRATION DAMPING
DOI: XX.XXXXX/XXXXXXXXXXXXX
PDF
Повернутись
Dovhopolyi Mykhailo ‒ student of II course, group MA-72 of Department of fluid mechanics and mechatronics of Mechanical-Engineering Institute of National Technical University of Ukraine
«Igor Sikorsky Kyiv Polytechnic Institute», аddress: 37, Prosp. Peremohy, Kyiv, Ukraine, 03056. e-mail: mdov99@gmail.com.
Annotation
The aim is to determine the method of exploitation magnetorheological fluid in damper of artificial knee prosthetic. The research used to made a conclusion, that using of this technology will be useful for solving a problem of efficiency of suppression vibration oscillations and other types of loads. A semiconstructive scheme of an intelligent magnetorheological damper is proposed. A dampers' characteristic and its geometric sizes are calculated.
Keywords: damper, magnetorheological fluid, vibration oscillations, pressure drop, resistance effort, viscosity.
List of references
1. Uzunov, O.V., & Nochnichenko, I.V. (2011). Doslidzennja bimetalevoho pryvodu hidravlichnoho droselju amortyzatora vibracijnych kolyvan [Investigation of the bimetallic drive of the hydraulic throttle of the shock absorber of vibrational oscillations].Vibraciji v tekhnici ta tekhnologhijakh Vibration in engineering and technology. (Vols. 3), no. 63, (pp.66-73). Vinnytsia: VNAU [in Ukrainian].
2. Ivanov M.I., & Sharghorodsjkyj S.A. & Rutkevych V.S. (2016) Eksperymentaljnyj stend dlja doslidzhennja systemy ghidravlichnykh pryvodiv blochno-porcijnogho vidokremljuvana konservovanogho kormu [Experimental stand for research of the system of hydraulic drives of block-portion separable canned feed] Promyslova ghidravlika i pnevmatyka Industrial hydraulics and pneumatics. (Vols. 1), no. 51, (pp.77-84). Vinnytsia: VNAU [in Ukrainian].
3. Strutyns`kyj, V.B., & Kolot, O.V. (2005), Matematychne modelyuvannya stoxastychnyx procesiv u systemax pryvodiv, [Mathematical modeling of stochastic processes in drive systems]. Kramators`k: ZAT «Tyrazh-51» [in Ukrainian].
4. Vatazhin, A.B., & Lyubmov, G.A., & Regirer, S.A. (1970), Magnitogidrodinamicheskie techenija v kanalah [Magnetohydrodynamic flows in channels]. Moscow: Gl. red. fiz. – mat. l-ry Nauka [in Russian].
5. Shul'man, Z.P., & Kordonskii, V.I. (1982), Magnitoreologicheskii effekt [Magnetorheological effect].Minsk: Nauka i tekhnika [in Russian].
6. Derbaremdiker, A.D., Amortizatory transportnyh mashin [Shock absorbers transport vehicles]. 2nd ed., Moscow: Mashinostroenie [in Russian].
7. Bashta, T.M., & Zaichenko, Y.Z., & Ermakov, V.V., & Khaimovych, E.M. (1969). Objomnye gidravlicheskie privody [Volumetric hydraulic actuators]. Moscow: Mashynostroenye [in Russian].
8. Nochnіchenko, І.V., & Galets'kii, O.S. (2014) Eksperimental'ne doslіdzhennya magnіtoreologіchnogo droselya [Experimental study of magnetoresistance choke]. Proceedings from PTTIO `14: XV Mizhnarodna naukovo-tekhnichna konferenciia «Proghresyvna
tekhnika, tekhnologhija ta inzhenerna osvita» - International scientific and technical conference «Progressive technology, technology and engineering education.» (pp. 30-32). Kiev [in Ukrainian].
9. Nochnichenko, I.V., & Kostjuk, D.V. (2016) Do pitannya pobudovi dempfera protezu nogi na osnovi magnitoreologichnoi' ridini [To the question of construction of a damper of a prosthetic leg by using a magnetorheological fluid] Proceedings from Mizhnarodna naukovo-tekhnichna konferentsija «Hidro- ta pnevmopryvody mashyn – suchasni dosiahnennia ta zastosuvannia» - International scientific and technical conference «Hydraulic and pneumatic drives of machines - modern achievements and applications». (pp. 58-60). Vinnycja: [in
Ukrainian].
10. Uorden, К., (2006) Novye intellektual'nye materialy i konstrukcii. Svojstva i primenenie [New intelligent materials and structures. Properties and applications]. 1st ed., Moscow: Tekhnosfera, [in Russian].
11. Karpov, А.S., & Nochnichenko, І.V., & Kostjuk, D.V.( 2017) Zastosuvannja feromagnitnoi' ridyny dlja pokrashhennja harakterystyk dempferu protezu kolinnogo suglobu [Application of a ferromagnetic fluid to improve the characteristics of the knee prosthetic damper], Proceedings from Vseukrajinsjka naukovo-tekhnichna konferencija molodykh vchenykh ta studentiv Innovaciji molodi - mashynobuduvannju 2017 Sekcija: Prykladna ghidroaeromekhanika i mekhanotronika - All-Ukrainian scientific and technical conference of young scientists and students «Innovations of youth - machine building 2017». (pp. 1–2) Kiev: [in Ukrainian].
All journal issues
About journal
Topics of the journal:
The journal "Vibrations in engineering and technology" presents materials on the following issues

• Theory of processes and machines
• Mechanical Engineering and materialprocessing
• Processing and food production


The journal "Vibrations in Engineering and Technologies" is included in the list of technical scientific publications of Ukraine
(Category "B", Order of the Ministry of Education and Science of Ukraine dated July 2, 2020 No. 886)
Old version of the site: http://vibrojournal.vsau.edu.ua/
The journal "Vibrations in Engineering and Technology" is indexed by the following databases and catalogs:


Keywords:
ISSN (print): 2306-8744
DOI: 10.37128/2306-8744
The certificateof massmedia State registration:kv no 16643-5115 from 30.04.2010 .
Founder of the journal: Vinnytsia National Agrarian University

Kind of publication: journal
Type of publication : Scientific
Publication status: Domestic
Year of founding:
Periodicity: 4 times a year
Extent: 18.75 nominal printed pages
ISSN: 2306-8744 (printed version), (online)
Language of edition : (mixed languages) Ukrainian, English
The scope of the distribution and the category of readers: national, foreign, teaching staff, scientists, businessmen.
Periodical is included in the list of scientific professional editions of Ukraine approved by the Order of Ministry of Education and Sciences of Ukraine from 21.12.2015 No. 1328.
The journal "Vibrations in engineering and technology" is included in the "Catalogue of periodicals of Ukraine".
Journal subscription can be executed in each post office department.
Subscription Index is 99720.


Old version of site: http://vibrojournal.vsau.edu.ua/
History of journal:
In June 1994 the 2nd International Scientific and Technical Conference "Application of vibrations for technological purposes" was organized on the basis of Vinnytsia State Agricultural Institute. Leading experts in this field, noting the significant contribution to the school of Vibration Engineering under the leadership of P. S. Bernyk, proposed to create a professional all-Ukrainian scientific and technical journal "Vibration in engineering and technology..The journal was foundedat Vinnytsia State Agricultural Institute and P.S. Bernyk was elected to be the chief editor .
For all these years (since 1994) theJournal "vibration in engineering and technology" published 94 issues wherestudy of vibration effects, the creation of progressive energy saving technologies and equipment for their implementation were highlighted.
Currently Kaletnik H.M PhD , professor, academician NAAS is the chief editor of the "Vibrations in engineering and Technology"
The journal "Vibration in Engineering and technology", which has no analogues on the territory of Ukraine, is well known abroad.