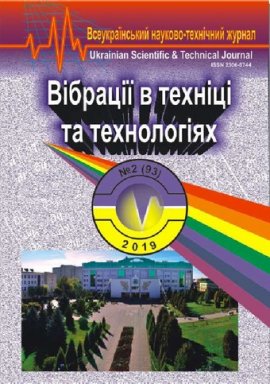 Issue №: 2 (93)
Published: 2019.11.07
DOI: 10.37128/2306-8744-2019-2
Description:
The journal deals with the problems of vibration technologies and machines, mathematical methods of vibration process studies, information on design and technological development, presents teaching and methodological aspects of teaching in the Higher School of Applied Sciences, where vibration machines and technologies are studied.
DETERMINATION OF PHYSICAL-MECHANICAL PARAMETERS OF WALNUTS
DOI: 10.37128/2306-8744-2019-2-2
PDF
Повернутись
Polievoda Yurii – candidate of technical sciences, associate professor of the department of technological processes and equipment for processing and food production, Vinnytsia National Agrarian University: Vinnitsia, st. Sonyachna 3, VNAU, 21008, e-mail: vinyura36@gmail.com.

Tverdokhlib Igor – candidate of technical sciences, associate professor of the department of general technical disciplines and occupational safety, Vinnytsia National Agrarian University: Vinniytsia, st. Sonyachna 3, VNAU, 21008, e-mail: igor_tverdokhlib@yahoo.com.
Annotation
The information about growing and processing of walnut in Europe and Ukraine is given. The actuality of the implementation of peeling, maximally preserved nuts is established.
Based on the conducted research, the physical and mechanical properties of walnut shell are determined. The rational energy indices of the peeling process are found at maximum preservation of the fetus.
The use of the developed equipment for preliminary peeling of the walnut in order to get microcracks is proposed.
Keywords: deformation process, crushing process, moisture, microcracks, vibration drive, drying, density.
List of references
1. Satina H.M. (2005). Potentsial promyslovoho vyrobnytstva hretskykh horikhiv v Ukraini ta shliakhy yoho efektyvnoho vykorystannia.Avtoref. dys. kand. ekon. nauk : 08.07.02. Nats. nauk. tsentr «In-t ahrar. Ekonomiky» UAAN.Kyiv [in Ukraine].
2. Satina H.M. (2004). Formuvannia vnutrishnoho i zovnishnoho rynku voloskykh horikhiv.Materialy shostykh richnykh zboriv Vseukrainskoho konhresu vchenykh ekonomistiv-ahrarnykiv. Kyiv [in Ukraine].
3. Shestopal O.M., Satina H.M. (2002). Pryrodno-ekonomichni peredumovy promyslovoho vyroshchuvannia horikha hretskoho v Ukraini.Zb. nauk. prats Luhanskoho derzhavnoho ahrarnoho universytetu.Lugansk [in Ukraine].
4. Satina H.M. (2002). Pytannia orhanizatsii vyrobnytstva voloskoho horikha v hospodarstvakh naselennia . Naukovyi visnyk Natsionalnoho ahrarnoho universytetu. Kyiv [in Ukraine].
5. Yanovych V.P. (2015). Obgruntuvannia tekhnolohii ta obladnannia dlia pererobky voloskykh horikhiv. Zbirnyk naukovykh prats Vinnytskoho natsionalnoho ahrarnoho universytetu, seriia tekhnichni nauky. Vinnytsia [in Ukraine].
6. Yanovych V.P., Honcharuk I.V. [ta in.]. (2018). Rozrobka kompleksu tekhnolohichnykh mashyn dlia hlybokoi pererobky voloskoho horikha.Zvit pro naukovo-doslidnu robotu № derzhreiestratsii 0118U001421, Vinnytskyi natsionalnyi ahrarnyi universytet. Vinnytsia [inUkraine].
7. Pat. KM 91325 Ukraina. (2017). Vibratsiine obladnannia dlia lushchennia voloskykh horikhiv. Opubl. 25.06.2014.[inUkraine].
All journal issues
About journal
Topics of the journal:
The journal "Vibrations in engineering and technology" presents materials on the following issues

• Theory of processes and machines
• Mechanical Engineering and materialprocessing
• Processing and food production


ISSN (print): 2306-8744
DOI: 10.37128/2306-8744
The certificateof massmediaState registration:kv no 16643-5115 from 30.04.2010 .
Founder of the journal: Vinnytsia National Agrarian University

Kind of publication: journal
Type of publication : Scientific
Publication status: Domestic
Year of founding:
Periodicity: 4 times a year
Extent: 18.75 nominal printed pages
ISSN: 2306-8744 (printed version), (online)
Language of edition : (mixed languages) Ukrainian, English
The scope of the distribution and the category of readers: national, foreign, teaching staff, scientists, businessmen.
Periodical is included in the list of scientific professional editions of Ukraine approved by the Order of Ministry of Education and Sciences of Ukraine from 21.12.2015 No. 1328.
The journal "Vibrations in engineering and technology" is included in the "Catalogue of periodicals of Ukraine".
Journal subscription can be executed in each post office department.
Subscription Index is 99720.


Old version of site: http://vibrojournal.vsau.edu.ua/
History of journal:
In June 1994 the 2nd International Scientific and Technical Conference "Application of vibrations for technological purposes" was organized on the basis of Vinnytsia State Agricultural Institute. Leading experts in this field, noting the significant contribution to the school of Vibration Engineering under the leadership of P. S. Bernyk, proposed to create a professional all-Ukrainian scientific and technical journal "Vibration in engineering and technology..The journal was foundedat Vinnytsia State Agricultural Institute and P.S. Bernyk was elected to be the chief editor .
For all these years (since 1994) theJournal "vibration in engineering and technology" published 94 issues wherestudy of vibration effects, the creation of progressive energy saving technologies and equipment for their implementation were highlighted.
Currently Kaletnik H.M PhD , professor, academician NAAS is the chief editor of the "Vibrations in engineering and Technology"
The journal "Vibration in Engineering and technology", which has no analogues on the territory of Ukraine, is well known abroad.