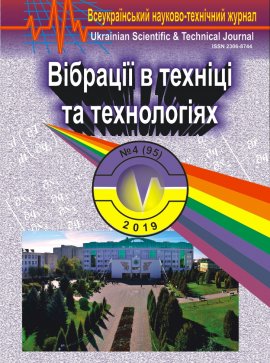 Issue №: 4(95)
Published: 2019.12.20
DOI: 10.37128/2306-8744-2019-4
Description:
The journal deals with the problems of vibration technologies and machines, mathematical methods of vibration process studies, information on design and technological development, presents teaching and methodological aspects of teaching in the Higher School of Applied Sciences, where vibration machines and technologies are studied.
TECHNOLOGICAL REVIEW OF USE OF BIOENERGY POTENTIAL OF GARDENS AND LANDS OF FOREST FUND
DOI: 10.37128/2306-8744-2019-4-11
PDF
Повернутись
Shvets Ludmila - PhD, Associate Professor, Department of Agricultural Engineering and Technical Service Vinnytsia National Agrarian University (Sunny str., 3, Vinnytsia, Ukraine, 21008, shlv0505@i.ua).
Annotation
While we are struggling for energy independence and solving issues related to reducing heat loss, practical Europeans make full use of the biomaterial at hand to heat their own homes, office buildings, and even small businesses. For heating, fuel briquettes are used, which many Ukrainians still call «Eurodrova». Today, the production of fuel briquettes is a good profitable business, which you can do not only in the heating season, but throughout the calendar year.
There is one positive feature in fuel briquettes, due to which more and more customers will appear every day: at a relatively low cost (wood waste is used), briquettes give a heat transfer of 19 MJ / kg, while firewood gives only 10 MJ / kg . With this calorific value, customers will need much less fuel to heat.
At present, due to the difficult financial situation in the state, the undesirable vegetation in the form of shrubs that have flooded villages, fields and highways has become a big problem for society. Thus, the high-quality removal of unwanted vegetation is a relevant topic today.
Felling shrubs and green spaces is a necessity that often occurs when "modernizing" a garden, putting in order on abandoned sites, clearing the area for construction, proper maintenance near roads and plantings in parks and botanical gardens, and also when landscaping in large cities and suburbs.
For this purpose, a machine for cutting and chopping wood pulp was developed, with a trailed and mounted unit, which will allow collecting raw materials for wood chips, which can be used in the production of fuel briquettes, pallets for burning in boilers.
Keywords: machine, shrubs, pruning, grinding, fuel briquettes.
List of references
1. Chastukhin V.Ya., Nikolaevskaya M.A. (2013) Biological decay and resynthesis of organic substances in nature. K .: Science. 326 р. [in Russian].
2. Yashchuk V.N, Popov V.I., Quiring K.P. (1994) Actual results of mobile mobility for orchards and vineyards. Sadivnitstvo. Vip.21. K .: Harvest [in Ukrainian].
3. Shomakhov A.R. (2011) On the use of pruned fruit tree branches. Theses of the report of the international conference of young scientists. Sochi: VNIIITsisk [in Russian].
4. Anisimov S.Є., Mazurkin P.M. (2003) Bagatolankov's manipulators. - Yoshkar-Ola: MarSTU. 76 р. [in Ukrainian].
5. Babenko A.Є., Babiy V.P., M.O. Demidko and іn. (1992) Dovidnik z mehanizatsіі Sadіvnitsva. Ed. M.O. Demidka. View. 2nd, reoff. i additional. K .: Harvest. 264 р. [in Ukrainian].
4. Privalov I.S., Tokar O.P. (2008) Obruntuvannya parametres pribrnyuvach g_lok fruit trees // Sadivnitsvo. VIP. 46. 275 р. [in Ukrainian].
5. Fedorova E.A., Repin D.V., Shchitov N.A. (2003) Rotary mower-grinders for orchards and berry plants: development, research. Tractors and agricultural machines, № 3. [in Russian].
6. Seem R. S., Eds C. Gessler, D. J. Butt, B. Köller. (1989) Simulation and Optimization of Apple Scab Management. Integrated Control of Pome Fruit Diseases. IOBC Bulletin. Brissago, 1989. Vol. 12. Р. 66-87 [in English].
7. Binkiewicz R. Praktycznieo cięciu. Sad nowoczesny. 2010. №12. P. 43–44 [in Czech].
8. Buitenhuis E. (2005) «Le Mur Fruitier» Die französische revolution im apfelanbau. Inno frutta. №5. S. 4–7 [in German].
9. Buitenhuis E. (2010) Mur fruitier, practical experiences in the Netherlands and Belgium. European fruitgrowers magazine. №2. P. 14-16 [in English].
10. Poldervaart G. (2011) Thinning machine as an alternative to ATS or Ethephon. European fruitgrowers magazine. №3. P. 14-15 [in English].
All journal issues
About journal
Topics of the journal:
The journal "Vibrations in engineering and technology" presents materials on the following issues

• Theory of processes and machines
• Mechanical Engineering and materialprocessing
• Processing and food production


ISSN (print): 2306-8744
DOI: 10.37128/2306-8744
The certificateof massmediaState registration:kv no 16643-5115 from 30.04.2010 .
Founder of the journal: Vinnytsia National Agrarian University

Kind of publication: journal
Type of publication : Scientific
Publication status: Domestic
Year of founding:
Periodicity: 4 times a year
Extent: 18.75 nominal printed pages
ISSN: 2306-8744 (printed version), (online)
Language of edition : (mixed languages) Ukrainian, English
The scope of the distribution and the category of readers: national, foreign, teaching staff, scientists, businessmen.
Periodical is included in the list of scientific professional editions of Ukraine approved by the Order of Ministry of Education and Sciences of Ukraine from 21.12.2015 No. 1328.
The journal "Vibrations in engineering and technology" is included in the "Catalogue of periodicals of Ukraine".
Journal subscription can be executed in each post office department.
Subscription Index is 99720.


Old version of site: http://vibrojournal.vsau.edu.ua/
History of journal:
In June 1994 the 2nd International Scientific and Technical Conference "Application of vibrations for technological purposes" was organized on the basis of Vinnytsia State Agricultural Institute. Leading experts in this field, noting the significant contribution to the school of Vibration Engineering under the leadership of P. S. Bernyk, proposed to create a professional all-Ukrainian scientific and technical journal "Vibration in engineering and technology..The journal was foundedat Vinnytsia State Agricultural Institute and P.S. Bernyk was elected to be the chief editor .
For all these years (since 1994) theJournal "vibration in engineering and technology" published 94 issues wherestudy of vibration effects, the creation of progressive energy saving technologies and equipment for their implementation were highlighted.
Currently Kaletnik H.M PhD , professor, academician NAAS is the chief editor of the "Vibrations in engineering and Technology"
The journal "Vibration in Engineering and technology", which has no analogues on the territory of Ukraine, is well known abroad.