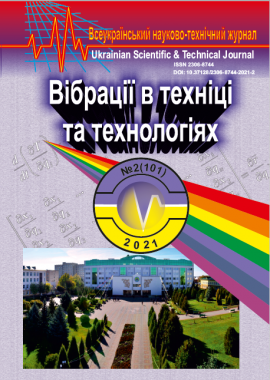 Issue №: 2(101)
Published: 2021.06.29
DOI: 10.37128/2306-8744-2021-2
Description:
The journal deals with the problems of vibration technologies and machines, mathematical methods of vibration process studies, information on design and technological development, presents teaching and methodological aspects of teaching in the Higher School of Applied Sciences, where vibration machines and technologies are studied.
JUSTIFICATION OF CONSTRUCTIVE-REGIME PARAMETERS OF VARIABLE RUBBER OF VARIABLE SECTION
DOI: 10.37128/2306-8744-2021-2-11
PDF
Повернутись
Hrytsun Anatoliy – PhD, Associate Professor of the Department of "Agro-engineering and Technical Service" of Vinnytsia National Agrarian University (3 Solnechnaya St., Vinnitsa, 21008, Ukraine, e-mail: gritsun@vsau.vin.ua).
Babyn Ihor – PhD, Senior Lecturer of the Department "Machinery and equipment for agricultural production" of Vinnytsia National Agrarian University (3, Solnyshchaya str., Vinnytsia, 21008, Ukraine, e-mail: babyn@vsau.vin.ua)
Annotation
Domestic and foreign industries do not produce milking machines that would fully comply with the physiology of animals.
Full milking of the udder and reduction of cows with ma-stit significantly depends on the operation of the milking machine. The quality of serial milking cups does not fully meet modern zootechnical requirements. In the process of their work, especially at the beginning and at the end of milking cows, "idle" milking can take place at nominal vacuum. Milking at high vacuum often irritates the teat sphincter, which often causes mastitis in animals, followed by cancer. Also, along with the growth of milk production, its quality is extremely important.
The main technical solutions for milking machines with controlled change of vacuum pressure are analyzed. Some theoretical and experimental studies of the milking machine, which provides a reduction of the vacuum load on the udder and a rigid vibration effect on the teat sphincter at nominal vacuum in the process of machine milking cows.
Despite the many known solutions to improve the milking machine, the task of creating a design that combines high productivity and stimulation of the reflex remains relevant. Designs of milking machines are now being improved mainly in two directions, namely - the development of milking machines that allow you to adjust the operating parameters depending on the level of milk yield and design improvements of milking machines that stimulate the milk reflex without causing the animal negative effects.
Theoretical studies of the working process of machine milking allowed to systematize the method of engineering calculation of the milking machine with controlled mode of vacuum pressure on the teats of the cow and to determine the optimal design parameters of the executive mechanisms. The obtained analytical expressions characterize the influence of their parameters and mode of operation on the dynamics of milk production during machine milking of cows.
Keywords: vibration-vibrational motion of juice rubber, milk, milking, milking cup, milking rubber, machine milking machine.
List of references
1. Dmytriv V.T. Obgruntuvannya parametriv vymiryuvacha potoku moloka v protsesi mashynnoho doyinnya: Dys. kand. tekh. Nauk.-Hlevakha,1995.-191 s.
2. Hunʹko I. V., Babyn I.A. Fizyko-matematychna modelʹ roboty hidroi-nzhektora systemy promyvannya doyilʹnykh ustanovok. Vibratsiyi v tekhnitsi ta tekh-nolohiyakh. 2020. №2. S. 111-118.
3. Drigo V.A., Mikhaylenko N.K., Ostapenko N.A. Ustroystvo reguliro-vaniya velichiny vakuuma v doil'nom stakane proportsional'no potoku molo-ka. Tezisy 9 mezhdunarodnogo seminara.-Orenburg, 1997. S.48-49.
4. Kartashov L. P. Mashinnoye doyeniye korov. – M.: Kolos,1982. – 386 s.
5. Fenenko A. I. Rezhymni kharakterystyky vykonavchykh mekhanizmiv dlya novoho pokolinnya doyilʹnykh ustanovok. Visn.Lʹviv.derzh.ahrarn. un-tu: Ahroin-zhenerni doslidzhennya, 1999. - №3. S. 18 – 26.
6. Hrytsun A. V., Babyn I.A., Sevastʹyanov I.V. Doslidzhennya vplyvu sosko-voyi humy na diyky vymeni koriv. Tekhnika, enerhetyka, transport APK, 2018. – №4(101). S. 4–9.
7. Sinyavskiy I. S. Soprotivleniye materialov. – M.: Kolos, 1968.- 430 s.
8. Kartashov L. P. Metodicheskiy material po raschetu elementov doil'-nykh apparatov. - M.: NII Sel'khozmashch, 2001. – 241 s.
All journal issues
About journal
Topics of the journal:
The journal "Vibrations in engineering and technology" presents materials on the following issues

• Theory of processes and machines
• Mechanical Engineering and materialprocessing
• Processing and food production


ISSN (print): 2306-8744
DOI: 10.37128/2306-8744
The certificateof massmediaState registration:kv no 16643-5115 from 30.04.2010 .
Founder of the journal: Vinnytsia National Agrarian University

Kind of publication: journal
Type of publication : Scientific
Publication status: Domestic
Year of founding:
Periodicity: 4 times a year
Extent: 18.75 nominal printed pages
ISSN: 2306-8744 (printed version), (online)
Language of edition : (mixed languages) Ukrainian, English
The scope of the distribution and the category of readers: national, foreign, teaching staff, scientists, businessmen.
Periodical is included in the list of scientific professional editions of Ukraine approved by the Order of Ministry of Education and Sciences of Ukraine from 21.12.2015 No. 1328.
The journal "Vibrations in engineering and technology" is included in the "Catalogue of periodicals of Ukraine".
Journal subscription can be executed in each post office department.
Subscription Index is 99720.


Old version of site: http://vibrojournal.vsau.edu.ua/
History of journal:
In June 1994 the 2nd International Scientific and Technical Conference "Application of vibrations for technological purposes" was organized on the basis of Vinnytsia State Agricultural Institute. Leading experts in this field, noting the significant contribution to the school of Vibration Engineering under the leadership of P. S. Bernyk, proposed to create a professional all-Ukrainian scientific and technical journal "Vibration in engineering and technology..The journal was foundedat Vinnytsia State Agricultural Institute and P.S. Bernyk was elected to be the chief editor .
For all these years (since 1994) theJournal "vibration in engineering and technology" published 94 issues wherestudy of vibration effects, the creation of progressive energy saving technologies and equipment for their implementation were highlighted.
Currently Kaletnik H.M PhD , professor, academician NAAS is the chief editor of the "Vibrations in engineering and Technology"
The journal "Vibration in Engineering and technology", which has no analogues on the territory of Ukraine, is well known abroad.