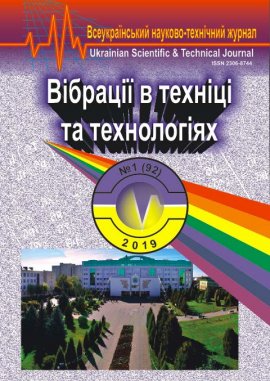 Issue №: 1(92)
Published: 2019.11.08
DOI: 10.37128/2306-8744-2019-1
Description:
The journal deals with the problems of vibration technologies and machines, mathematical methods of vibration process studies, information on design and technological development, presents teaching and methodological aspects of teaching in the Higher School of Applied Sciences, where vibration machines and technologies are studied.
ENHANCING THE PRODUCTIVITY OF VIBRATORY PROCESSING OF DETAILS BY USING THE USE OF DISCARDED ENERGY CIRCULATION MOVEMENT OF THE WORKING ENVIRONMENT
DOI: 10.37128/2306-8744-2019-1-7
PDF
Повернутись
Yaroshenko Leonid Victorovich candidate of technical sciences, associate professor of the department of electric power engineering, electrical engineering and electromechanics of Vinnitsa national agrarian university, Service address: Vinnitsa, st. Sonyachna 3, VNAU 21008, e-mail: volvinlv@gmail.com
Annotation
The distribution of mechanical energy in vibratory toroidal machines with vertical driven unbalanced shafts is investigated experimentally, depending on their design parameters and the characteristics of the working environment. The conclusion about the possibility of utilization of mechanical energy circulating movement of the working environment of the machine and its appliance to auxiliary drive movements of the machined parts is substantiated. As established during experimental research, the provision of machined parts during the vibration abrasive treatment of forced planetary motion, due to the utilized energy flow of circulation of the working environment resulted in an increase in the processing efficiency of 1.8 times without increasing the overall energy intensity of the process.
Keywords: vibration abrasive processing, circulation of the working environment, energy utilization.
List of references
1. Babichev A.P., Babichev I.A. Osnovy vibratsyonnoy tehnologii. Rostov-nа-Donu: Izd. Tsentr DGTU, 1999. – 624 s.;
2. Babichev A.P., Motrenko P.D. Otdelochno-uprochnyayutshaya obrabotka detaley mnogokratnym vibroudarnym instrymentom. – Rostov-nа-Donu: , 2003. – 192 s.
3. Subach А.P. Dynamika protsesov i mashin obyomnoy obrabotky. – Ryga: Zinatne, 1991. – 400 s.;
4. Goncharevich I.F., Frolov К.V. Teoriya vibratsyonnoy tehniky i tehnologii. – М.: Nauka, 1981. –319 s.;
5. Bernyk P.S. Vibratsionnyye tehnologicheskiye mashyny s prostranstvyennymi kolebaniyamy rabochyh organov/ Bernyk P. S., Yaroshenko L.V. - Vinnytsya.: VNAU, 1998.- 116 s.;
6. Lubenskaya L.М., Shumakova Т.А., Yasynyk S.N. Vliyanyye formy abrazivnyh granul na syom metala s poverhnostey obraztsov razlychnyh geometrycheskyh form // Vibratsii v tehnitsi tа tehnologiyah. – 2007. – №2 (47). – S. 33-37.
7. Kartashov I.N. Obrabotka detaley svobodnymy аbrazivami v vibriruyutshyh rezervuarah. - К.: Vytsha shkola, 1975. - 188 s.
8. Chubyk R.V. Kerovani vibratsiyni tekhnolohichni mashyny / R.V. Chubyk, L.V. Yaroshenko. - Vinnytsya.: VNAU, 2011. - 355 s.
All journal issues
About journal
Topics of the journal:
The journal "Vibrations in engineering and technology" presents materials on the following issues

• Theory of processes and machines
• Mechanical Engineering and materialprocessing
• Processing and food production


The journal "Vibrations in Engineering and Technologies" is included in the list of technical scientific publications of Ukraine
(Category "B", Order of the Ministry of Education and Science of Ukraine dated July 2, 2020 No. 886)
Old version of the site: http://vibrojournal.vsau.edu.ua/
The journal "Vibrations in Engineering and Technology" is indexed by the following databases and catalogs:


Keywords:
ISSN (print): 2306-8744
DOI: 10.37128/2306-8744
The certificateof massmedia State registration:kv no 16643-5115 from 30.04.2010 .
Founder of the journal: Vinnytsia National Agrarian University

Kind of publication: journal
Type of publication : Scientific
Publication status: Domestic
Year of founding:
Periodicity: 4 times a year
Extent: 18.75 nominal printed pages
ISSN: 2306-8744 (printed version), (online)
Language of edition : (mixed languages) Ukrainian, English
The scope of the distribution and the category of readers: national, foreign, teaching staff, scientists, businessmen.
Periodical is included in the list of scientific professional editions of Ukraine approved by the Order of Ministry of Education and Sciences of Ukraine from 21.12.2015 No. 1328.
The journal "Vibrations in engineering and technology" is included in the "Catalogue of periodicals of Ukraine".
Journal subscription can be executed in each post office department.
Subscription Index is 99720.


Old version of site: http://vibrojournal.vsau.edu.ua/
History of journal:
In June 1994 the 2nd International Scientific and Technical Conference "Application of vibrations for technological purposes" was organized on the basis of Vinnytsia State Agricultural Institute. Leading experts in this field, noting the significant contribution to the school of Vibration Engineering under the leadership of P. S. Bernyk, proposed to create a professional all-Ukrainian scientific and technical journal "Vibration in engineering and technology..The journal was foundedat Vinnytsia State Agricultural Institute and P.S. Bernyk was elected to be the chief editor .
For all these years (since 1994) theJournal "vibration in engineering and technology" published 94 issues wherestudy of vibration effects, the creation of progressive energy saving technologies and equipment for their implementation were highlighted.
Currently Kaletnik H.M PhD , professor, academician NAAS is the chief editor of the "Vibrations in engineering and Technology"
The journal "Vibration in Engineering and technology", which has no analogues on the territory of Ukraine, is well known abroad.