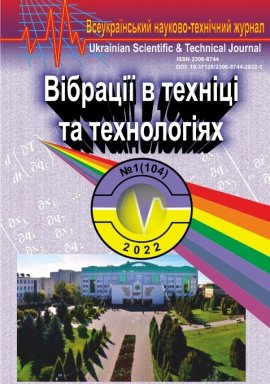 Issue №: 1(104)
Published: 2022.04.29
DOI: 10.37128/2306-8744-2022-1
Description:
The journal deals with the problems of vibration technologies and machines, mathematical methods of vibration process studies, information on design and technological development, presents teaching and methodological aspects of teaching in the Higher School of Applied Sciences, where vibration machines and technologies are studied.
DEVELOPMENT OF ALGORITHMIC SUPPORT FOR PRACTICAL IMPLEMENTATION OF TESTING AND DIAGNOSTIC COMPLEX OF CNC MACHINES
DOI: 10.37128/2306-8744-2022-1-9
PDF
Повернутись
Veselovska Nataliia - Doctor of Engineering, Professor, Head of the Department of Machines and Equipment of Agricultural Production of Vinnitsa National Agrarian University (3 Soniachna St., Vinnytsia, Ukraine, 21008, e-mail: wnatalia@ukr.net).
Annotation
CNC machines, including multi-purpose machines (product processing centers), have been widely used in connection with the creation of flexible production systems and significant progress in developing and improving the reliability of multi-purpose freely programmable, multiprocessor and small numerical program control devices (CNC) , so the development of algorithmic software for the practical implementation of the test and diagnostic complex and the use of diagnostic systems as a means of automation of information technology is one of the general directions of improving the efficiency of machine-building enterprises. However, in order to make decisions about the scope, stages and feasibility of using a particular diagnostic system for the selected object of study at a particular enterprise, it is necessary to assess its expected benefits.
The use of diagnostics during operation of the machine imposes its influence on the means and methods of diagnosis, which should be convenient for use in the factory, to ensure the diagnosis process in the shortest time, to have reliable readings, especially with high requirements for product reliability. and in some cases without disrupting the mechanism, to be economically feasible.
The design of the machine is adapted to the needs of diagnostics and must: have built-in devices that evaluate its parameters (pressure in the hydraulic system, temperature of energy-intensive units, accuracy of machining, speed); periodically connect to special equipment that will diagnose the basic parameters of the machine and provide data on its condition. The parameters of the technical condition (diagnostic features), which can be judged on the OD and which are diagnosed during operation of the machine, are: machine parameters that directly characterize its efficiency; damage and defects that occur during operation and lead or may lead to failure; side effects that are functionally or stochastically related to the initial parameters.
Keywords: machine complex, functionality, diagnostics, equipment, machining process, machines.
List of references
1. Rostislav D. Iskovych-Lototsky, Yaroslav V. Ivanchuk, Natalia R. Veselovska, Wojciech Surtel, Samat Sundetov. "Automatic system for modeling vibro-impact unloading bulk cargo on vehicles", Proc. SPIE 10808, Photonics Applications in Astronomy, Communications, Industry, and High-Energy Physics Experiments 2018, 1080860 (1 October 2018). doi: 10.1117/12.2501526.
2. Pistunov I. M. (2008), Proektuvannia informatsiinykh system [Tekst],D.: Natsionalnyi hirnychyi universytet, Ukraine.
3. Kharchenko V. S., Skliar V. V., Tarasiuk,O.M. (2004), Metodу modelyrovanyia y otsenky kachestva y nadezhnosty prohrammnoho obespechenyia, Kharkov, Ukraine.
4. Kuntsevych V.M. (2006), Upravlenye v uslovyiakh neopredelennosty: harantyrovannыe rezultatyv zadachakh upravlenyia y ydentyfykatsyy, Kyev Naukova Dumka, Ukraine.
5. Strutynskyі V. B., Veselovska N.R., Zelinska, O.V. (2008), «Avtomatyzatsiia proektuvannia tekhnolohichnykh protsesiv ta system», Vseukrainskyi NTZh «Vibratsii v tekhnitsi ta tekhnolohiiakh».Vol.3(52), pp.22-30
All journal issues
About journal
Topics of the journal:
The journal "Vibrations in engineering and technology" presents materials on the following issues

• Theory of processes and machines
• Mechanical Engineering and materialprocessing
• Processing and food production


ISSN (print): 2306-8744
DOI: 10.37128/2306-8744
The certificateof massmediaState registration:kv no 16643-5115 from 30.04.2010 .
Founder of the journal: Vinnytsia National Agrarian University

Kind of publication: journal
Type of publication : Scientific
Publication status: Domestic
Year of founding:
Periodicity: 4 times a year
Extent: 18.75 nominal printed pages
ISSN: 2306-8744 (printed version), (online)
Language of edition : (mixed languages) Ukrainian, English
The scope of the distribution and the category of readers: national, foreign, teaching staff, scientists, businessmen.
Periodical is included in the list of scientific professional editions of Ukraine approved by the Order of Ministry of Education and Sciences of Ukraine from 21.12.2015 No. 1328.
The journal "Vibrations in engineering and technology" is included in the "Catalogue of periodicals of Ukraine".
Journal subscription can be executed in each post office department.
Subscription Index is 99720.


Old version of site: http://vibrojournal.vsau.edu.ua/
History of journal:
In June 1994 the 2nd International Scientific and Technical Conference "Application of vibrations for technological purposes" was organized on the basis of Vinnytsia State Agricultural Institute. Leading experts in this field, noting the significant contribution to the school of Vibration Engineering under the leadership of P. S. Bernyk, proposed to create a professional all-Ukrainian scientific and technical journal "Vibration in engineering and technology..The journal was foundedat Vinnytsia State Agricultural Institute and P.S. Bernyk was elected to be the chief editor .
For all these years (since 1994) theJournal "vibration in engineering and technology" published 94 issues wherestudy of vibration effects, the creation of progressive energy saving technologies and equipment for their implementation were highlighted.
Currently Kaletnik H.M PhD , professor, academician NAAS is the chief editor of the "Vibrations in engineering and Technology"
The journal "Vibration in Engineering and technology", which has no analogues on the territory of Ukraine, is well known abroad.