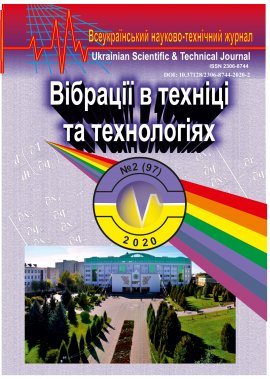 Issue №: 2(97)
Published: 1970.01.01
DOI: 10.37128/2306-8744-2020-2
Description:
The journal deals with the problems of vibration technologies and machines, mathematical methods of vibration process studies, information on design and technological development, presents teaching and methodological aspects of teaching in the Higher School of Applied Sciences, where vibration machines and technologies are studied.
DESIGN OF A TECHNOLOGICAL FUEL PELLET PRODUCTION LINE
DOI: 10.37128/2306-8744-2020-2-16
PDF
Повернутись
Shvets Ludmila - PhD, Associate Professor, Department of Agricultural Engineering and Technical Service Vinnytsia National Agrarian University (Sunny str., 3, Vinnytsia, Ukraine, 21008, shlv0505@i.ua).
Annotation
In the conditions of the fuel crisis, an active search began for alternative energy sources in general, and alternative fuel in particular. Among the alternative sources, the use of biofuel for generating thermal and electric energy is currently the most relevant. Biological sources become the material for its production and, basically, these are wastes from agriculture, forestry and the woodworking industry. An important advantage of the use of bio-fuel is also an environmental factor, because its use significantly reduces environmental pollution, compared with the use of mineral fuels.
According to their characteristics, fuel pellets compete with natural gas, but in environmental terms they are ahead of all other types of fuel to the same extent as in price terms.
The relevance of the use of fuel pellets shows an increase in the use of wood and agricultural waste in industrial production of thermal energy in Europe, the Scandinavian countries and North America by 15% annually.
Granules are a real alternative to coal and oil. Since, in terms of their heat transfer characteristics, they are not inferior to coal, and their environmental parameters are generally beyond competition.
The heat of combustion of the granules is close to coal, but when they are burned, the CO2 emission is 10-50 times lower, and the ash formation is 15-20 times. So bio-fuel experts confidently claim that granules are a full substitute for coal.
The manufacture of wood pellets occurs without chemical fixers under high pressure. It is worth noting that briquettes from agricultural waste are more ash-rich (for example, from sunflower husk - about 7%, from peat - from 2 to 15%) than wood pellets (0.3-3%) and their use for small briquettes boilers undesirable.
The article substantiates the introduction of technologies for the processing of agricultural by-products into fuel granules.
A developed technological line for the manufacture of granules and a design for chopping wood are proposed.
Keywords: wood chopper, fuel granules, raw materials, straw..
List of references
1. Shvets LV (2019) Technological prerequisites for harnessing the bioenergy potential of gardens and forest lands / All-Ukrainian Scientific and Technical Journal "Vibrations in Engineering and Technology", Vinnitsa. Vol. 4 (95). [in Ukrainian].
2. Kaletnik G.M. (2018) Biogas - in households - a guarantee of energy independence of rural areas / Kaletnik GM, Zdyrko NG, Fabianska V. Yu. Ekonomika. Finances. Management: current issues of science and practice. № 8 (36). - P. 7-22.
3. Gunko I. V. (2018) Selection of the optimal method of improving the composition of blended biofuels from vegetable oils. / Gunko IV, Burlaka SA, Yaroshchuk RO Bulletin of Khmelnytsky National University. № 4 (263). - P. 123-127.
4. https://galmet.com.ua/yak-tse-pratsyuye/palyvni-pelety-harakterystyky-ta-vydy.html.
5. Chastukhin V.Ya. (2013 )Biological decay and resynthesis of organic substances in nature / Chastukhin V.Ya., Nikolaevskaya MA .. - K .: Nauka - 326 p. [in Russian].
6. Shomakhov A.R. (2011) On the use of pruning branches of fruit trees. Abstracts of the International Conference of Young Scientists. - Sochi: VNIICISK. . [in Russian].
7. Shomakhov A.R. (2011) Efficiency of the use of crushed hmyz as a mulch material. Tez. Doc. Intern. Conf. Young scientists. - Sochi: VNIItsKIS, 2011. [in Russian].
8. Binkiewicz R. (2010) Praktycznieo cięciu / R. Binkiewicz // Sad nowoczesny. №12. P. 43–44.
9. Buitenhuis E. (2005) «Le Mur Fruitier» Die französische revolution im apfelanbau / Е. Buitenhuis // Inno frutta №5. S. 4–7.
10. Buitenhuis E. (2010) Mur fruitier, practical experiences in the Netherlands and Belgium / Е. Buitenhuis // European fruitgrowers magazine. №2. P. 14–16.
11. Poldervaart G. (2011) Thinning machine as an alternative to ATS or Ethephon / G. Poldervaart // European fruitgrowers magazine. №3. P. 14–15.
All journal issues
About journal
Topics of the journal:
The journal "Vibrations in engineering and technology" presents materials on the following issues

• Theory of processes and machines
• Mechanical Engineering and materialprocessing
• Processing and food production


The journal "Vibrations in Engineering and Technologies" is included in the list of technical scientific publications of Ukraine
(Category "B", Order of the Ministry of Education and Science of Ukraine dated July 2, 2020 No. 886)
Old version of the site: http://vibrojournal.vsau.edu.ua/
The journal "Vibrations in Engineering and Technology" is indexed by the following databases and catalogs:


Keywords:
ISSN (print): 2306-8744
DOI: 10.37128/2306-8744
The certificateof massmedia State registration:kv no 16643-5115 from 30.04.2010 .
Founder of the journal: Vinnytsia National Agrarian University

Kind of publication: journal
Type of publication : Scientific
Publication status: Domestic
Year of founding:
Periodicity: 4 times a year
Extent: 18.75 nominal printed pages
ISSN: 2306-8744 (printed version), (online)
Language of edition : (mixed languages) Ukrainian, English
The scope of the distribution and the category of readers: national, foreign, teaching staff, scientists, businessmen.
Periodical is included in the list of scientific professional editions of Ukraine approved by the Order of Ministry of Education and Sciences of Ukraine from 21.12.2015 No. 1328.
The journal "Vibrations in engineering and technology" is included in the "Catalogue of periodicals of Ukraine".
Journal subscription can be executed in each post office department.
Subscription Index is 99720.


Old version of site: http://vibrojournal.vsau.edu.ua/
History of journal:
In June 1994 the 2nd International Scientific and Technical Conference "Application of vibrations for technological purposes" was organized on the basis of Vinnytsia State Agricultural Institute. Leading experts in this field, noting the significant contribution to the school of Vibration Engineering under the leadership of P. S. Bernyk, proposed to create a professional all-Ukrainian scientific and technical journal "Vibration in engineering and technology..The journal was foundedat Vinnytsia State Agricultural Institute and P.S. Bernyk was elected to be the chief editor .
For all these years (since 1994) theJournal "vibration in engineering and technology" published 94 issues wherestudy of vibration effects, the creation of progressive energy saving technologies and equipment for their implementation were highlighted.
Currently Kaletnik H.M PhD , professor, academician NAAS is the chief editor of the "Vibrations in engineering and Technology"
The journal "Vibration in Engineering and technology", which has no analogues on the territory of Ukraine, is well known abroad.